If you recently started a business and you are a small business owner, one of the greatest investments you can make is in people both customers and employees. And one simple way to supply your customers is with Customer Relationship Management. CRM Software makes it simple for employees to manage day-to-day customer and client connections while providing a better customer experience. If your employees are happy as your clients are happy. If you're working with limited funds, there's no better choice than free, and free CRM Software doesn't mean that CRM has no features.
What is a CRM Software and Why You Should Consider Using a Free Version?
CRM Software is a computerized customer relationship management system. It helps to organize, automate, and manage all the customer interactions of a business.
We see that most companies are using enterprise-level software to manage their customers and prospects. But there is an ever-growing number of small businesses that don't have the budget for it. The free version is usually limited in features but still offers enough functionality for them to get started with their sales.
CRM software is a tool to store and organize customer data. It helps companies to manage and track their customers, campaigns, and contacts.
CRM software helps you to capture the customer's information better by giving them an account with a profile page. Through the use of CRM software, companies can make sure that they know who their customers are and what their needs are.
Freemium CRM software is an option for small businesses as it allows them to get started without any cost while still being able to manage their company with ease. A free version is also great as it allows small business owners or startup founders to test out the product before purchasing a paid version of it.
Free CRM software is an increasingly popular option as it requires no payment or subscription fees. Furthermore, it can give you the information required to generate leads and connect with customers from a professional point of view. This free CRM software can also help you manage your clients efficiently with added features like analytics and content management tools.
How Does Free CRM Software Work?
Free CRM software is a type of software that can help with the automation process in an organization. It can also be used for marketing purposes and can be a good way to increase productivity.
CRM software is designed to help businesses manage their sales and customer data easily. The process starts by creating a business plan which will specify what the company needs the software for, what its goals are, how it plans to use it, and how much it will cost. These plans are then shared with prospective clients who will agree or disagree with the costs involved. Once approved, they'll sign up
for an annual plan which will cover all of their company's needs until they're ready to migrate to a new platform at the end of their contract.
CRM software is one of the most important tools for businesses, especially small and medium-sized enterprises. It allows a business to manage its customers and vendors, promote itself, and much more.
Companies can use CRM software for free by using a trial version or by signing up for an annual plan. Different types of licenses can be used depending on the size of the company and what they need from the software.
HubSpot Sales Hub
Maximize your sales with sales Hub, a powerful and easy-to-use CRM tool that includes engagement, configure price quote functionality, and strong sales analytics for growing teams. Sales Hub is built on the Hubspot platform where customer data, tools, and teams come together to create an individual source of truth for unusual sales rep efficiency.
When talking about free CRM software, it does not get any more affordable than free of cost and this free CRM delivers by HubSpot.
Its free version is very popular among many businesses that have many CRM clients. HubSpot's free version provides features that unlimited users and features contact management, Outlook integration, notifications, email tracking, and Gmail.
With this easy-to-use CRM, you'll never have to manually update reports or how your team is tracking toward sharing because a company has more important things to do.
Tap into our expansive space of app and solutions partners to craft a surprising end-to-end customer experience. Whether it's strategies, services, or software — HubSpot allows you to manage your company, not convolution. HubSpot has everything you need to grow better your business.
Insightly
Insightly is a CRM platform that is designed for small size and medium-sized businesses looking to improve their lead management and increase sales potential. And also provides free plans that are helpful for users to manage projects, track contacts, and record sales.
If you graduate to a paid plan, you have 3 choices to choose from. The plus plan is $35/month for a single user and builds on the plan for free with additional features and hundred pre-designed templates for emails.
Choosing Insightly CRM free will provide users with a budget-friendly way to track business leads and timely follow-up: it will also help operators to manage tasks for their organization and teams. There are also webinars, videos, and a beginner's guide to help free CRM software users get started. For growing businesses across all industries, including professional services, media, education, manufacturing, health & wellness, retail, and construction. Insightly is popular with Google and office 365 users. It manages everything on the award-winning mobile applications for both android and IOS.
Insightly gives options to free users to link customer social media accounts to their CRM for all-in-one private conversation management. And has an active community convention where users can find help or answers, but this doesn't offer live customer support.
PnaPna 
PnaPna is a CRM platform designed for small businesses, cleaning services, and freelancers. It is a tool for free for life. PnaPna is the integrated e-solutions for your business. It created various digital tools for modern businesses for the management of customers, workflow, and human resources,
PnaPna works seamlessly with each other let's automate and track your operations. All data is centralized online and accessible from anywhere with any device.
PnaPna's apps are integrated well. No more multiple sign-ins. They have integrated other major software via their APIs. This software provided many features which are related to communications, tasks, projects, CRM, and HR. it is the best free CRM software for your business. PnaPna includes Add apps and integration: -QuickBooks, tracking email, email marketing, E- deny website analytics, etc.
PnaPna provides the best service in free subscriptions for different types including cleaning services, small businesses, freelancers, and much more coming soon.PnaPna also provides some other features in the future. All features can be used by any organization or company or business. It is beneficial for businesses as well as for customers.
ZOHO CRM
ZOHO CRM is a part of vast business tools. It's meant to be an individual platform that operates all the elements of the business. It offers pricing and capabilities that suit all business organizations.
ZOHO has some pricing tiers to go along with its free system. The three options provide features of social media management, event tracking, sales task management, call logging, and up to 10 pre-build templates of email.
ZOHO CRM version free is easy to use and great for teams looking at their existing sales, marketing, and service methods. And also, free plans missing some features like mass emailing and email tracking.
Zoho's AI-powered sales assistant, Zia, provides advanced exposition solutions and predictions for salespeople. Your sales team can spend more time selling instead of entering data with the help of workflow automation, built-in gamification, real-time notifications, and lead scoring.
An online multichannel CRM, Zoho accumulates customer data from a variety of sources, and live chat, including e-mail, calls, and social media. Its SalesSignals feature provides real-time analytics and notifications for the customer. You can allocate individual targets to each of your team members, and monitor their advancement from a central dashboard. Drag and drop customization means we can make changes easily which is broad if you are not tech sharp or don't have a technical person on staff. Zoho CRM also works with Google docs, calendars, tasks, and Gmail.
Agile CRM
Agile CRM basic plans are for up to 10 users. Features include data fields, appointment scheduling, lead scoring tools, and email tracking capabilities among other revive. To help new users with the enlisting process. You get access to setup guides and videos. Users also have email access to support from agile representatives.
Agile CRM is built for small businesses as well as freelancers. In the terms of ease of use, it is one of the best CRM leaders. Agile CRM developers enhance usability to deliver an easily navigable layout. Whenever you need to graduate from free plans, Agile CRM provides three affordable pricing choices. The starter choice is $15/month for individual users and adds more marketing levers.
For marketing teams, Agile CRM offers tools for multiple services, including e-mail templates, forms, and website landing pages. There is also the potential to monitor social media and automate marketing tasks.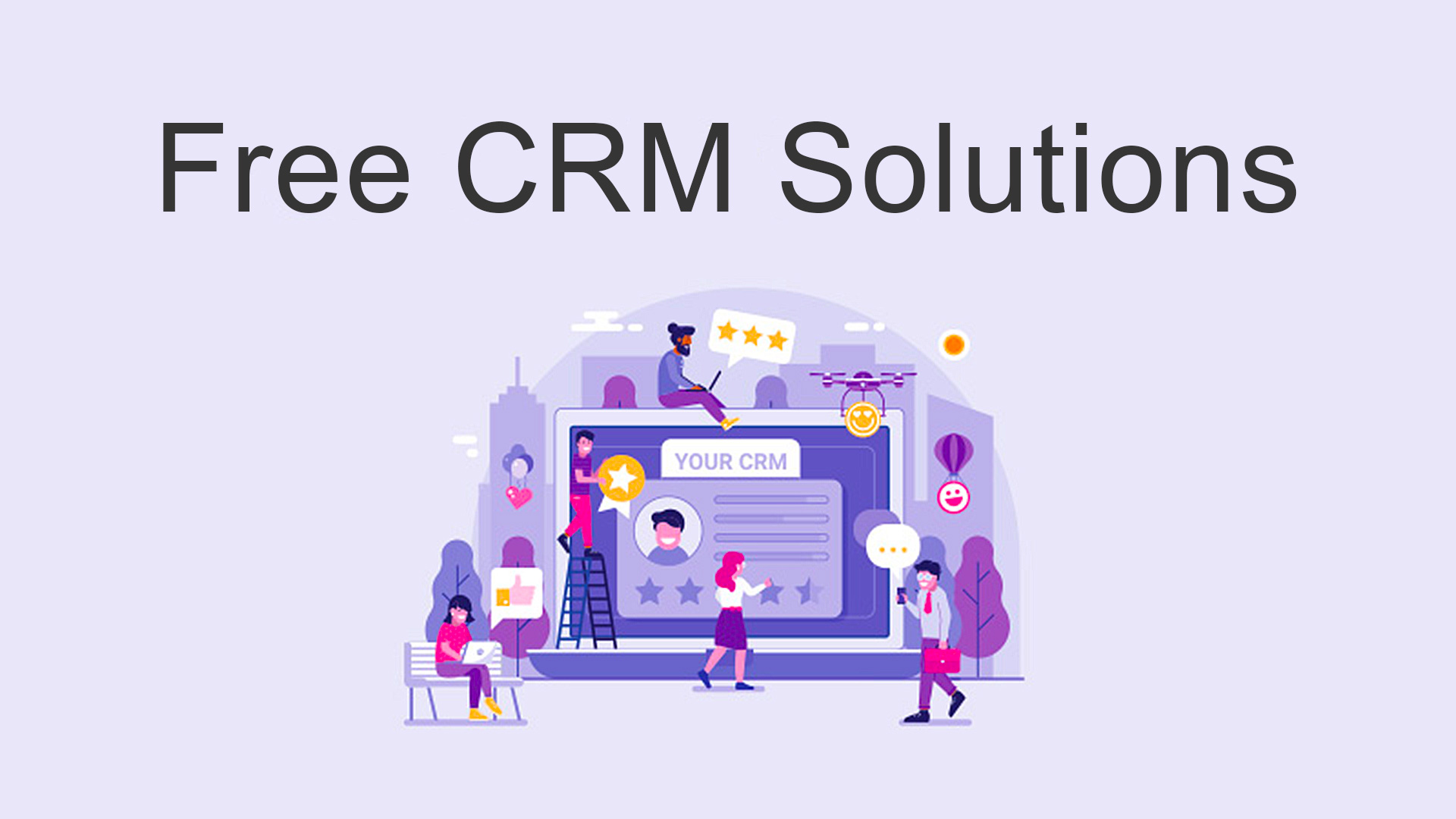 Recommendation
We recommend looking at PnaPna.com which has a PnaPnaCleaning.com variant specifically designed for cleaning service companies. They offer a 14-day free trial; no credit card is required with a 60-day money-back guarantee. They have a lead generation system, a digital marketplace where you can advertise your business for free. A free integrated website where you get a free web order form from your clients and the orders go straight into the software for Employee monitoring, time management, payroll, etc. The system allows collecting payments online or on job sites. You will save one full employee's annual salary, to do all these tasks automatically.
The company will also specifically design any feature that may be very unique to your company. The owners of this software company have been in the field service business for decades and know the issues of small to medium size field service companies. Good software is an asset that will reward you many times more than the investment. They have a lifetime subscription for a one-time fee of $295.00. Even if you do not buy anything from PnaPnacleaning, you can avail of their free-for-life subscription and free advertising in your marketplace on their portal.