Do want to Know why Leads are More Important for Field Service businesses? No business can survive without customers, and businesses should be proactive in filling their sales funnel with viable business leads. The type and quality of your business leads can make a major difference in how you grow your sales. And companies should understand the lead's role and expectations in their sales process so they can be prepared to leverage every opportunity. Before going to dig deep into the matter, why the free leads are important?
You must know what are leads. What do the leads do? And how your field business depends on leads? So, let's dig deep into this.
What are the leads?
By definition, a business lead (or sales lead) is a person who is interested in the service you sell. Companies generate leads from a variety of sources, then follow up with each one to see if the business lead is a good fit for what they sell. Getting leads is the first step of the sales cycle and will help you know who to stay in touch with and who to continue marketing until they're ready to buy. A lead can be anyone (Typically a person) who has expressed his/her desire for your services. A Lead can come through many sources such as your website, through word of mouth, or even through a phone call. Digital Marketing Solutions that direct traffic to the website, improve search engine rankings, and increase web referrals account for an astounding 93% of leads.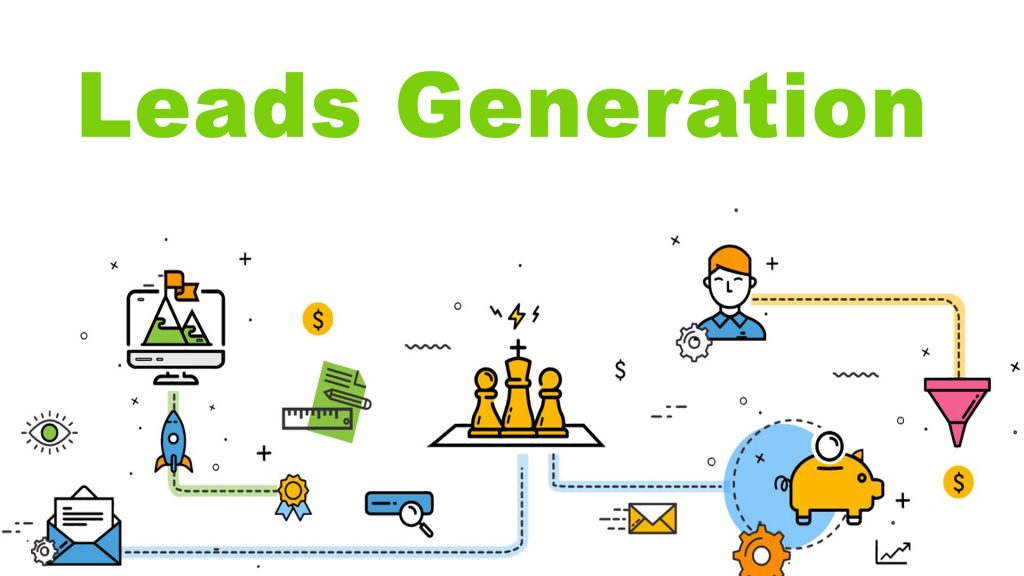 What is lead generation?
Lead generation is the process of acquiring new leads for your business. It is developing a person's interest in your Field service so much that they provide you with their contact details. It is the start of the process which leads to a potential customer turning into a customer. And then potentially purchasing from your business. Your business should then be nurturing these leads that you generate. Your sales team should be taking them through your business sales funnel to turn them into a sale at the end. And to ensure that you aren't wasting money on leads that will not turn into sales, your sales team should nurture each lead. This leads generation can be of two types,
Offline Leads Generation: – The process of turning contacts into positive expected customers through a manual process like face-to-face meetings, or phone calls is called offline leads generation.
Online Leads Generation: – The process of turning contacts into positive expected customers by digital means like your business websites, CRM software, etc is called online digital Leads generation.
Why leads are important for the field service business?
Lead generation is important to a business. Without it, a business will struggle to make sales and expand. A business must have a good lead-generation strategy. A business will struggle to generate leads as they are unsure what type of people they are looking to attract and sell to. Many businesses today are heavily dependent on Lead Generation as it generates traffic to their websites where they can convert leads into customers. Google has made the process of connecting people to businesses easier, ensuring that businesses can let the world know how different their products and services are from their competitors. It allows you to target a customer base who is actively searching for your product or service via a search engine. And taking the lead directly to your website increases the chance of the lead purchasing from your business. The vast majority of Field business providers are targeting the right group with the help of online lead generation.
Generating leads for your business is important. It creates sales and increases organic customers.
Having a more engaging website will increase your chances of a lead turning into a customer.
You should ensure that you qualify your leads to reduce time wasted and of course, money!
Use Google Advertisements to your advantage and rank higher up in the search engine so more of your potential customers see you right away.
What is a Field Service Business (FSB) and How Does it Work?
Field service businesses are a type of business where employees go out into the field to provide services to customers. These services can range from IT support and computer repairs to home repair and landscaping.
This is a relatively new type of business that emerged in the late 20th century. Field service businesses have grown in popularity with the advent of technology and continuous improvements in the efficiency of service delivery.
The field service software provides everything an FSB needs, including customer support and financial management functions like invoicing, billing, and time tracking. These functions help make sure all aspects of the FSB are running smoothly, ensuring profitability for all parties involved.
Field Service Business (FSB) Software is an important tool for organizations that want to decrease their costs by automating the process of finding service technicians. The software enables these organizations to find their employees and set up jobs, manage schedules and record customer interactions.
The Field Service Business (FSB) has evolved as a result of technological advancements. FSB software has impacted many industries such as manufacturing, engineering, construction, and healthcare with its ability to connect all the necessary business processes. It also helps create a more efficient company structure that increases the productivity and profitability of an organization while decreasing the costs involved in employee management.
Field Service Business (FSB) Software is one of those business tools that have been around for quite some time but have gone through some changes over time- from traditional manual systems to modern digital ones.
Why do You Need to Lead-Generate in Your Field Service?
Lead generation is an essential part of modern business. It is also one of the most overlooked ways to generate leads. This can be as simple as a meetup, or as complex as an infomercial or a video series. When it comes to lead generation, there are far too many options out there and it is difficult for companies to decide which one they should use.
Leo Burnett wants you to lead-generate in your field service because they believe this will help you reach the next level of success.
It is not enough just to market yourself anymore – you need to be able to generate leads for your business to grow in today's competitive market.
Lead generation usually entails the activities such as email outreach, cold calling, event marketing, and web traffic. The goal is to find customers from the market who are ready to buy your product or service.
Lead generation can be seen as a way for businesses to build their customer base and increase their conversion rates. Lead generation has been an essential part of marketing for decades now and with the advent of new technology, it's easier than ever before.
For small businesses, lead generation can be a key factor in increasing revenue and growing their business. As your business grows, you will have to hire more people on your team who are capable of generating leads, so you'll need the resources throughout the year.
How can a field service business get leads?
A lead generation strategy includes tactics that attract interested prospects and convert them into leads. A lead is a person who has shown interest in your brand by taking
some action. They have shared their contact details or otherwise implied that they may want to do business with you. Social Media Marketing
SEO.
By PnaPna Super CRM Subscription Plan
Email Marketing.
Paid Ads.
Content Marketing.
Now PnaPna Super CRM is providing some revolutionary opportunities to get Free Leads to Field service businesses along with their CRM software subscription plan. PnaPna provides its customer with free Leads based on their service plan.
Alternative Ways to Find Sales Leads:
The Internet.
The Internet allows sales professionals to extend their reach globally. However, many Internet users are wary of providing their personal information online. Increasingly, consumers are demanding that the information they submit online is kept private.
Old-Fashioned Networking:
Traditional in-person networking tends to be quite effective. Industry trade shows and networking events provide a wealth of sales leads for a field service business, as does your local chamber of commerce. Disseminating information about products or services through advertising in local media also is useful.
Social Responsibility Can Foster Sales Leads, too:
By being socially responsible, businesses that give also receive. When a company or its employees donate time, effort, or supplies to local public service and non-profit organizations, they not only reap the benefit of feeling good about helping others. But also put their company's name in front of many viewers, which can generate numerous contacts including sales leads.
Conclusion:
We all need leads and to get leads, you'll need traffic. All the ways above are methods for generating traffic and starting conversations with potential leads. It's then up to you and your business to turn them into customers. Did you know that most websites only convert at 2%?
Recommendation
We recommend looking at PnaPna.com which has a PnaPnaCleaning.com variant specifically designed for cleaning service companies. They offer a 14-day free trial; no credit card is required with a 60-day money-back guarantee. They have a lead generation system, a digital marketplace where you can advertise your business for free. A free integrated website where you get a free web order form from your clients and the orders go straight into the software for Employee monitoring, time management, payroll, etc. The system allows collecting payments online or on job sites. You will save one full employee's annual salary, to do all these tasks automatically.
The company will also specifically design any feature that may be very unique to your company. The owners of this software company have been in the field service business for decades and know the issues of small to medium size field service companies. Good software is an asset that will reward you many times more than the investment. They have a lifetime subscription for a one-time fee of $295.00. Even if you do not buy anything from PnaPnacleaning, you can avail of their free-for-life subscription and free advertising in your marketplace on their portal.