Maid services are not always necessary for homes, especially if the homeowners can take care of their homes on their own. Maids provide several benefits to homeowners. For example, they make it easier for homeowners to clean their cars or furniture because they have the right equipment and tools to do so.
They also give homeowners peace of mind, knowing someone is deeply cleaning their home.
Maid services have been a staple of the economy for decades. With all of the advances in technology, though, there are now other ways to get your home cleaned without hiring a maid.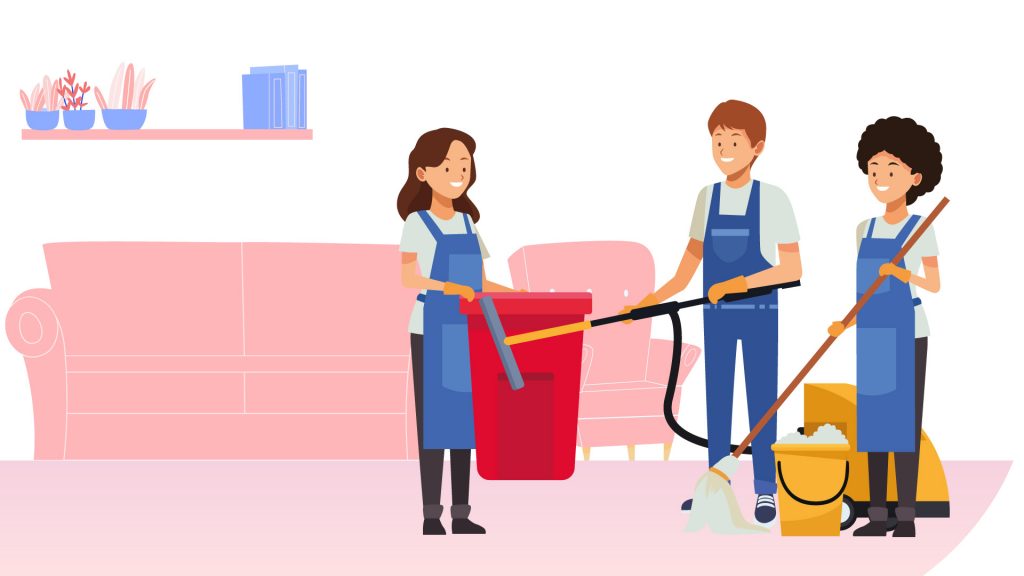 Some people swear by it. Unlike many services that specialize only in one area of home cleaning, these companies can do everything from cleaning windows to washing dishes.
Others, though, are skeptical. They don't like the idea of sending their personal information off to another company or trusting someone they don't know to come into their homes and make them presentable again after living there all week long.
One industry that has seen an increase in interest is the maid service (actually, more like housekeeping or home cleaning service). This is because of the increased demand for their services with the rise of dual-income families.
Primary Reasons for Hiring Private House Cleaning Services
If you want to save time and energy, hiring a maid service is worth considering. When you hire a house cleaning service, you are getting not only someone who will clean the house for you but also somebody who can do laundry, iron your clothes, babysit your kids, etc.
When you hire a maid service, you are getting not only someone who will clean the house for you but also some peace of mind. You know that your home is getting the special treatment it deserves and needs. When you're too busy to clean your home, it can be difficult to focus on other things like work or family time. Hiring a maid service allows you to spend more time with your family without having to worry about the mess at home.
Some people prefer to clean their homes themselves instead of hiring maids or cleaners. They think that it is more cost-effective or more environmentally friendly. But there are some disadvantages to this strategy as well: firstly, it can be time-consuming if you have a large home; secondly, it can be challenging to keep up with all the cleaning tasks on your own; thirdly they might not have the same attention to detail as house cleaning services do.
How to Choose a Maid Service Provider
Choosing a maid service can be difficult. There are so many different services on the market and it can be difficult to know which one will work best for you. You want to find someone that is reliable, trustworthy, and has good reviews.
There are a variety of different services on the market, each with its unique pros and cons. When it comes to finding a maid service that will work best for you, it is best to look at what you need from them rather than just going with the first one that you find.
Maid service is an individual or company that comes into your home to clean it while you are either there or not there. Maid services often come with other perks like doing the laundry, grocery shopping, or some other tasks that you need help with around the house.
Maid services are an important part of the home cleaning industry. A clean and tidy environment is not just a matter of personal hygiene, it is also a reflection of the care and attention given to the home and family. The best way to find a maid service provider in your area is through online search engines, which will give you an idea about who provides these services in your local area.
A maid service provider should be well qualified and licensed to work in that particular city or state. You can check with your local municipality for more information on this particular subject.
The best way to find out which company offers maid service at affordable rates is by looking for reviews online; both from people who might have used the service before and from those who haven't had experience with it yet.
How to Ensure You Get the Best Maid Service for Your Home
There are many different benefits to hiring a maid service to clean your home. Hiring professionals means that you don't have to worry about painting or worrying about excessive wear and tear on your carpets. It also allows you to use your time for other tasks instead of scrubbing the tiles on your floor.
The best maid services can also handle any type of mess that may be in your home, from dusting the fan blades, mopping the floors, or washing windows. This is a huge help if you happen to have a lot of things going on in your day and need someone else's assistance with keeping up with all of these tasks.
When hiring a maid service, it is important to find one that offers quality, affordability, and reliability. To ensure you are getting the best maid service for your home, here are some tips to follow.
Research the service provider thoroughly by looking at their portfolio and reviews online before hiring them.
Make sure they have professional cleaning equipment that covers power washing, carpet cleaning, oven cleaning, etc.
Ask for a price estimate over the phone so you know what to expect before arriving at their door.
Ask about any additional fees for things like extra hours or moving furniture.
Recommendation
We recommend looking at PnaPna.com which has a PnaPnaCleaning.com variant specifically designed for cleaning service companies. They offer a 14-day free trial; no credit card is required with a 60-day money-back guarantee. They have a lead generation system, a digital marketplace where you can advertise your business for free. A free integrated website where you get a free web order form from your clients and the orders go straight into the software for Employee monitoring, time management, payroll, etc. The system allows collecting payments online or on job sites. It is well integrated on mobile phones as well as a PC. You will save one full employee's annual salary, to do all these tasks automatically.
The company will also specifically design any feature that may be very unique to your company. The owners of this software company have been in the field service business for decades and know the issues of small to medium size field service companies. Good software is an asset that will reward you many times more than the investment. They have a lifetime subscription for a one-time fee of $295.00. Even if you do not buy anything from PnaPnacleaning, you can avail of their free-for-life subscription and free advertising in your marketplace on their portal.