Why start a commercial cleaning business? When you're ready to start your own home service business, it's time to put together a game plan. The first step is to decide what type of service you will be providing and make a list of tasks that need cleaning.
This will help you develop a commercial cleaning business plan for your commercial business cleaning services. You'll want to consider the initial cost of operations. And how many hours you'll be able to work from home each week?
The next step is to get started by setting up your business with legal documents and contracts such as an LLC, employee agreements, and insurance policies. This can help protect your assets in case anything goes wrong with the company.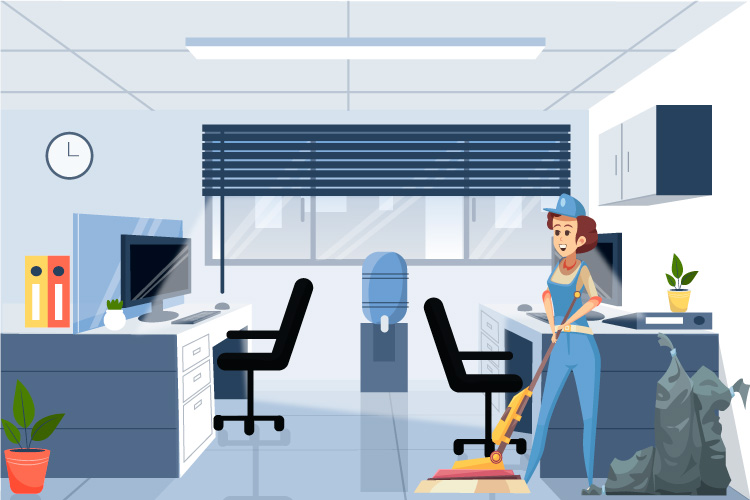 There are a lot of reasons why one might want to start their own commercial cleaning company. It could be for the challenge of doing something different, because you love something to do with cleaning, or because it's an investment in your future.
Some people choose to start a home service business as they can enjoy flexible hours and control their schedules. Many people also succeed because they are good at what they do and have experience in the industry.
If you are considering starting your own commercial cleaning company, here are a few tips that will help you get started:
Research and compare the market in your area before deciding on what type of services you will provide;
Find potential business partners who share similar interests and professional backgrounds;
What is the Best Time to Start a Commercial Cleaning Business?
Start your own commercial cleaning business when you have time to work on your business. There are many benefits to starting a business that involves minimal expenses and low start-up costs. This startup will allow you to learn about the industry. Develop your skills for the next step, get started on your career, and earn money while you're at it.
The best time to start a commercial cleaning business is now! Starting a company is no longer hard when there are services like Shopify that provide easy-to-use platforms. That makes it simple for entrepreneurs to launch their new ventures. The biggest benefit of starting any type of company is the ability to learn more about yourself while doing something that interests you.
When considering how long it should take before launching your commercial cleaning service. People might believe it should take about two years. But, if you know the tricks to run a successful business, you will be able to launch a commercial cleaning service in less than six months.
Many factors need to be considered when it comes to starting a business. One of the most important ones is when is the best time to start your own business. There are many ways of calculating this, but one way is by considering the rate of startup companies in your area and analyzing their success rates.
Startup companies have been created at a fairly rapid pace in recent years, so looking at those statistics can provide insights into what times are better for starting a company than others.
Setting up the date for your own cleaning service is not an easy task, but with these simple steps, you will have all bases covered and can start your business in no time!
How Do You Start a Commercial Cleaning Business?
If you are looking to start a commercial cleaning business, it is important to know the basics of how it works. The process can be complicated, but with these steps, you will be able to determine the feasibility of starting your own business.
The process of starting a commercial cleaning business can be quite complicated. However, there are certain steps that you should take to see if this is something that you want to do or not.
The first step is determining what type of service you would like your business to offer. There are different types of services available in the market such as carpet cleaning and window cleaning. Determine what services you would like your company to provide and then research whether or not this type of service is profitable enough for them If they are not profitable enough, determine what value they add to a business before making the decision.
Starting a commercial cleaning business is not that easy. But how do you start a company? There are many steps involved and when making the first step toward starting your own business, it can be overwhelming.
Here are some common ways to start your own cleaning business:
Get training and advice from other people in the industry.
Join a professional association or association of businesses in the field.
Find a mentor who has started their own business or has experience with starting one.
Research how other types of businesses have started up before you, such as restaurants, IT companies, and more.
Make sure that you have enough capital to invest in equipment before you start.
What are the Best Ways to Promote Your New Commercial Cleaning Company?
If you are planning to start a new commercial cleaning company, the first step is to find a location for your office. After that, you have to advertise your business and make sure that people know who you are and what services you offer. Once people come to your place for the first time, they will start trusting your service.
A good way to promote your new commercial cleaning company is by creating an infographic and posting it on social media platforms like Facebook, Instagram, or Twitter. These infographics show all the progress that has been made in the company since its inception. They also show customers how much money they earned in one month or year and how much their health has improved with this service.
To make yourself stand out in the market, you will need to create a commercial cleaning business advertising campaign that is specific and personalized.
As a commercial cleaning company, one of your best ways to attract new customers would be through infographic marketing. Create an infographic that showcases the services of your company and how it benefits your customers!
Marketing is telling a story about your product or service with an objective in mind. You want people to purchase what you are selling, but how do you get them in the first place? For someone to buy what you are selling; they need some sort of incentive that makes them feel more confident about their decision. In this case, it would be creating a customized advertising campaign with an infographic that highlights the advantages of using your service over others.
How Do You Find Customers for Your New Commercial Cleaning Company?
Finding customers for your new commercial cleaning company can be difficult, especially when you are an individual startup. If you want to make sure that your advertising is doing its job, then make sure that it looks like the attached example does.
You could get help from a commercial cleaning company like us to see what your advertising would look like as an infographic. We have specialists who are experts in creating marketing materials for businesses like yours.
If you're looking for customers for your door-to-door cleaning company, there are a few things that you should consider. You need to determine the best location, target your audience, and utilize a variety of advertising methods.
How do you find customers for your new commercial cleaning company? Find out where they live and what they buy. Then utilize various advertising methods to attract people who are interested in what you have to offer. Make sure that when you find these people, they feel like they can trust you and will be willing to give you their business then and there
If you are thinking about starting a commercial cleaning company and have questions about how to find customers, then this article is for you.
Commercial cleaning services are not as common as residential cleaning services. To make sure that your marketing efforts don't go to waste, follow these steps when launching your business.
Recommendation
We recommend looking at PnaPna.com which has a PnaPnaCleaning.com variant specifically designed for cleaning service companies. They offer a 14-day free trial; no credit card is required with a 60-day money-back guarantee. They have a lead generation system, a digital marketplace where you can advertise your business for free. A free integrated website where you get a free web order form from your clients and the orders go straight into the software for Employee monitoring, time management, payroll, etc. The system allows collecting payments online or on job sites. It is well integrated on mobile phones as well as a PC. You will save one full employee's annual salary, to do all these tasks automatically.
The company will also specifically design any feature that may be very unique to your company. The owners of this software company have been in the field service business for decades and know the issues of small to medium size field service companies. Good software is an asset that will reward you many times more than the investment. They have a lifetime subscription for a one-time fee of $295.00. Even if you do not buy anything from PnaPnacleaning, you can avail of their free-for-life subscription and free advertising in your marketplace on their portal.