For many households, cleaning is one of the first things on their to-do list each week. With busy work and family schedules, it can be difficult to find time for this personal responsibility. Many people turn to services like an hourly service or a maid service that can handle the task for them.
As social media has evolved, it has also become an increasingly effective tool in the marketing strategy of companies and products. Social media allows companies to market their product without having to spend a lot of money.
The new generation of cleaners is using social media to attract customers by posting customer reviews.  Photos that make them look good in front of consumers. They also use social media as a promotional tool by connecting with other businesses, creating content that highlights their services and expertise,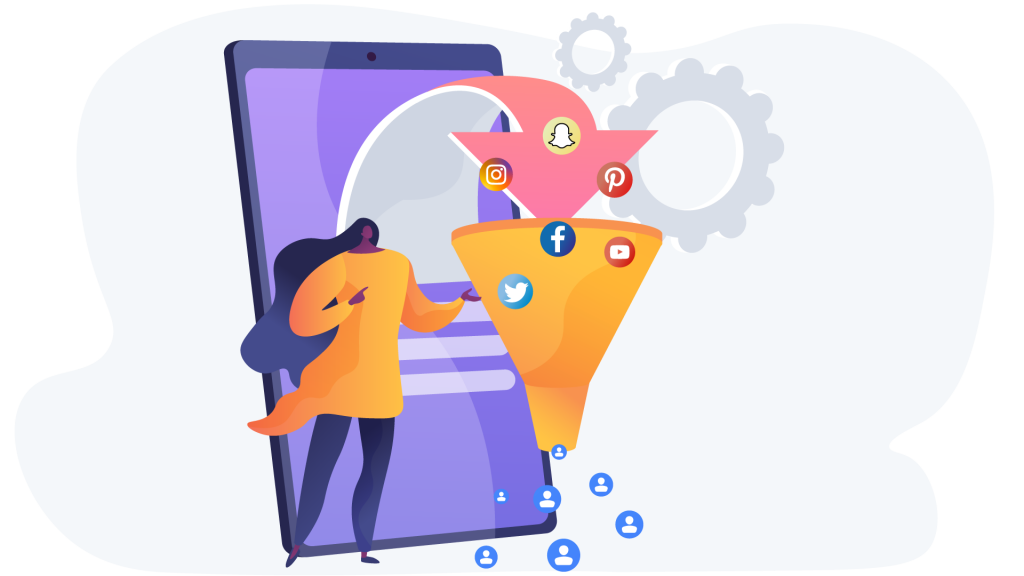 If you are looking for a way to increase your ROI, then you should use social media. It can help boost your sales and will lead to more customers.
Social media can also help make sure that your business stays up-to-date with changes in the market or industry. You can even use it to provide real-time feedback and support for your customers. If they have any worries or questions about the service they received.
Cleaning services that want to stay up-to-date on what is happening in their industry should consider using social media platforms like Facebook and Twitter.
Why is social media So Important for Your Maid Service Business?
Social media is a key marketing tool for many businesses, from advertising to promotion. Several cleaning service providers have started using social media platforms to reach out to potential customers.
One of the most significant benefits of using social media for your business is that you can collect leads from potential customers and get in touch with them through it. This allows you to be more efficient with your time and break down barriers between you and your customers.
List Building
List-building software such as Constant Contact or MailChimp allows businesses to build contact lists. And keep track of their contact information so they can grow their customer base as they please. This also enables them to set up email campaigns that will help generate leads at scale and lower the cost of acquiring new business.
In our digital society, social media plays a major role in customer acquisition. This article will discuss why social media is important for your cleaning business and the main benefits that your business will get from using it.
If you are not using social media for your business, then you are missing out on a lot of opportunities to generate new leads and increase sales. It is an important marketing tool for any cleaning service.
The article will also cover the use cases of social media for businesses, how to build a list on Facebook and Instagram, how to use list-building software, and what software you should use to generate leads.
Social Media Is Critical for Your Cleaning Business. Social Media is one of the best marketing tools that can help you acquire new clients because it helps you expand your reach and targets more potential customers than any other online marketing strategy.
How to Build a Cleaning Business on social media
Building a successful business on social media is not an easy task and it requires a lot of marketing and advertising. To rank well on Google, you need to invest in SEO, content creation, and more. Here are some of the best practices that can help you build a successful cleaning business.
One way to make sure you reach your target audience is to offer special deals or discounts. You can make your customers feel like they're getting their money's worth because they're receiving more than what they paid for.
The following are common mistakes that new cleaners make:
– Failing to set up a marketing plan with KPIs and benchmarks
– Not posting often enough
– Not using Facebook as their primary platform
A lot of people are turning to social media for help with their day-to-day tasks – from finding the perfect place to live to finding a job or even just looking for a date. While some posts can be genuine and helpful, others come across as spammy and uninformative.
This guide will teach you how to balance promotion and education in your content so that your followers can learn more about what it takes to start your own business while they learn about new places they should live or jobs they should try out.
Social media is used to connect with people and give them information about services they need. It has been found that people's needs are changing and so are their expectations of companies products and services. Social media offers companies an opportunity to meet these needs and expectations by communicating with customers in a more personal way.
Social Media Tips to Grow your Cleaning Business
Set the Perfect Cleaning Social Media Goals from the Start
To grow your cleaning social media accounts for the long term, it is a good idea to set some basic goals in place for your cleaning business. You should have to create a simple data spreadsheet and set the following goals for all of your social media accounts:
Weekly Goals
Monthly Goals
Quarterly Goals
Annual Goals
These are some great goals to get you started, you may have to find as you go along that there are extra metrics you'd like to track. Also, you'll be able to schedule your social media posts in advance for the benefit. After all that, you need to regularly evaluate your data to get better.
Regularly Evaluate the Data to Improve Your Strategies
You have made a spreadsheet, then you need to update your spreadsheet regularly such as every week. With this, you will keep yourself on target for reaching your specific goals. You can reshape your social media strategies in real time.
Additionally, by tracking your metrics to improve your plans, you should also keep your eyes on your competitors. Evaluate their social media accounts, what's not working? What is working? This is a better way of using your competitors as a measure of what your target market wants to see and engage with.
Focus your Efforts on the Best Platforms for You
You should have to use social media platforms such as Facebook, Twitter, Instagram, and LinkedIn. Some of them may not be suitable for your cleaning business. It all depends on your capacity. You may find that you only have some time to dedicate to two of these platforms to do them justice.
If you want that your cleaning business to be present on social media platforms, then it is important that you have enough time to dedicate to the platforms.
It all means that you need to focus on growing your cleaning social media accounts with engaging posts.
How to Get More Followers on social media for Your Cleaning Business
The cleaner business is a growing business, which started as a niche market. But with the rise in popularity of social media and the ability to connect with customers on these platforms, it has become essential to get more followers on these platforms.
There are many strategies that one can employ to increase follower numbers on social media. These strategies include sharing content and writing original content at regular intervals.
You can even collaborate with other social media managers who also have follower growth objectives by getting them in contact with your followers' networks and asking them to spread the word about your new service offerings.
If you are a cleaner service and want to grow your social media followers, there are a few ways to do that. One way is by joining multiple networks and posting content on a similar topic across networks. It helps spread the word about your cleaning business.
Another way is by putting yourself in front of potential clients to ask for their opinion about you or your service. You can also invite them to join you on social media or get referrals from people who have already tried out your services.
What are the best ways to use social media to grow your cleaning business?
Social media is a vital tool for the growth of any business. Individuals need to use social media as well. This is because there are many ways to grow your cleaning business using it:
Posting frequently on your company or personal Facebook page will help grow your credibility, which will be beneficial when posting on other platforms such as Instagram and Twitter.
Frequently posting on Instagram can help you get in touch with potential clients who share the same interests as you.
Posting frequently on Twitter can help boost your follower count and gain exposure for your brand.
Using social media for advertising will increase awareness of your brand, which can lead to more people finding out about you and wanting to hire you. Many businesses have seen an increase in their clientele by not being active with social media. As a result, less time is spent communicating with clients, which increases their productivity.
Businesses in many different industries use social media platforms to gain customer feedback and connect with their target audience. Social media is a great way for businesses to get their name out there in front of potential clients or customers.
To promote your business on social media, you need an engaging message and focus on growing your reach.
Recommendation
We recommend looking at PnaPna.com which has a PnaPnaCleaning.com variant specifically designed for cleaning service companies. They offer a 14-day free trial; no credit card is required with a 60-day money-back guarantee. They have a lead generation system, a digital marketplace where you can advertise your business for free. A free integrated website where you get a free web order form from your clients and the orders go straight into the software for Employee monitoring, time management, payroll, etc. The system allows collecting payments online or on job sites. It is well integrated on mobile phones as well as a PC. You will save one full employee's annual salary, to do all these tasks automatically.
The company will also specifically design any feature that may be very unique to your company. The owners of this software company have been in the field service business for decades and know the issues of small to medium size field service companies. Good software is an asset that will reward you many times more than the investment. They have a lifetime subscription for a one-time fee of $295.00. Even if you do not buy anything from PnaPnacleaning, you can avail of their free-for-life subscription and free advertising in your marketplace on their portal.