A cleaning service company must have a good strategy for marketing its services. This includes making sure that they are attracting the right type of customer by including keywords on their website, providing excellent customer service, and using social media to advertise their services. A cleaning service company should have an effective marketing strategy.
This should include ensuring that their website includes keywords that will attract the right type of customer.
The cleaning service company needs to make sure that its customers are getting the quality service they deserve. A marketing strategy is required to get customers and make sure they stay loyal. The cleaning services industry is a fast-growing industry and it's essential to have an efficient marketing strategy.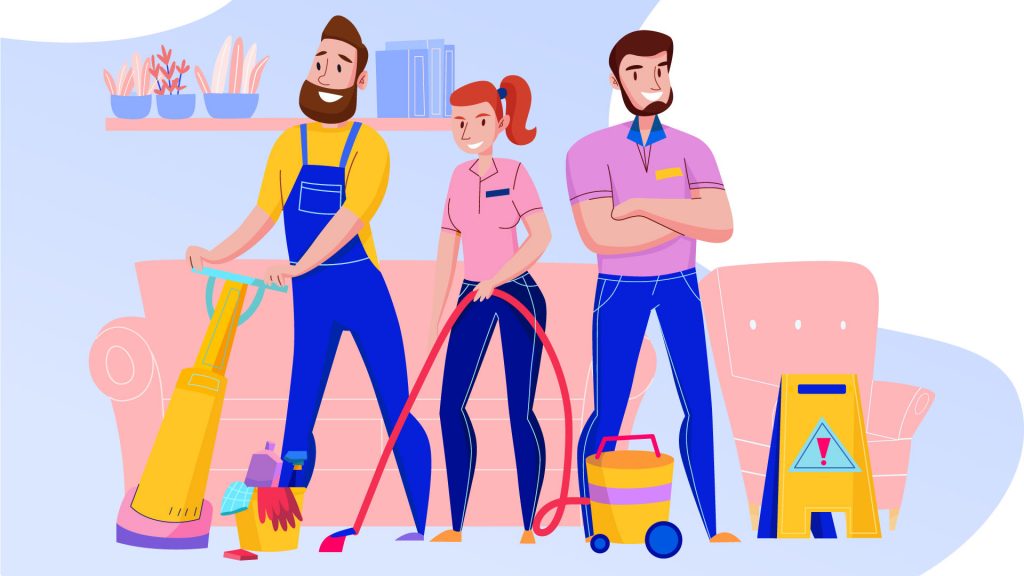 The cleaning service company is a fast-growing sector in the United States and abroad. It's important to have an efficient marketing strategy in place to win over potential clients and stand out from the competition.
This article covers some basic marketing strategies for the cleaning service industry.
Why is it Important to Get New Client Leads?
Leads are the lifeblood of every business. Without them, there would be no conversions, which results in zero sales. The time spent on obtaining new client leads is worth it in the long run because it helps to grow the client base and helps to maintain existing clients.
A lead magnet is a marketing tool that helps you get new client leads by incentivizing them with something for their contact information. There are other ways to get new client leads too, including social media advertising, SEO, PPC advertising, email marketing, and more.
With no leads to follow up on, you won't be able to generate as many new clients as you want. However, you can put your time and effort into getting new leads for your company by using the following tips:
Even if it takes a few months or even years to find a lead that will result in a similar amount of revenue as the old one, it's still worth it to keep looking. Try finding people who are actively looking for an agency like yours through platforms such as LinkedIn and Facebook, and then reach out to them
It is important to get new client leads because it lets the business know that there are people out there that are interested in what they have to offer. It also gives the person who is trying to get the client leads an idea of how valuable they are. Getting new client leads should be done in a way that will not put any stress or guilt on the potential customer.
The Best Way to Generate New Client Leads
Generating new leads can be one of the hardest parts of running a cleaning company. With the right strategy, you can build your business and grow your clientele without having to work so hard.
The general rule of thumb is that the newer leads you have, the more potential new customers you can generate. The hard part is finding those new leads. Luckily for cleaning company owners, there are a lot of different ways to build your list and start generating those all-important leads.
There are many ways to generate leads for your cleaning company. One way is through social media marketing. Social media marketing has grown in popularity because it allows companies to get their message out into the digital world with relative ease and low cost. From Instagram to Facebook, there are many social media platforms where you can post photos of your services and interact with potential clients in the comments section or through private messages. You can even do this without having an actual account on the site; it only takes a phone number!
Marketing for cleaning services can be more difficult than in other industries. As a result, there are not many good leads to generate. However, the best way to get new client leads is to use more traditional marketing methods, such as word of mouth and referrals.
Cleaners should think of traditional marketing channels to generate leads to stay competitive in today's market.
Cleaning Service Lead Generation Tactics for the Serious Pro
Cleaning services are necessary for domestic houses, restaurants, industrial buildings, hotels, etc. It is an important service to provide to the public. But there are many barriers in the way to generating leads for this service.
There are many barriers to the way of providing cleaning services to the public. The most common reasons why people do not use cleaning services is because they either don't know how to go about finding a service or they don't know how much they should pay for the service.
The biggest challenge is that potential clients often don't know that this service exists. To solve this problem, you need to find and create opportunities for them to see and know about your cleaning company so they can contact you when they need it.
The most popular ways of generating leads for your business are through marketing and sales activities such as SEO and PPC campaigns, banner ads on websites related to home cleaning, etc.
How to Benefit from the Newer Trends in Cleaning Services Marketing
Cleaning services marketing has evolved over the years. This is largely due to more homeowners opting for home-based cleaners or private cleaners. Cleaning services marketing is evolving to cater to this market.
Traditional cleaning services marketing techniques are still useful but they need to be adapted for bigger changes in the industry. For example, many companies are using interactive content which is compelling and entertaining for their audience.
Since traditional cleaning service company marketing is on the decline, newer trends in this industry are emerging. The new trend is focussing on building long-term relationships with customers. This new trend is built on trust and mutual respect.
There are several benefits of using newer trends in cleaning services marketing to build long-term relationships with customers. One of them is that you will get more referrals. Customers who have benefited from your service in the past will be more likely to refer you in the future to their friends or family, which will help you sustainably grow your clientele.
Cleaning service providers are rethinking their marketing strategies to keep up with the newer trends that are on the rise. These more recent trends are not only making cleaning services more popular but also more sustainable.
What is The Best Way to Market Your Cleaning Service as a Customer-Focused Business?
It is important to make sure that customer care service is a company's top priority. The best way to market a cleaning service is to make it a customer-focused business.
The most successful marketing campaigns always have a human touch. It is not about catering to the needs of the customers but going beyond their expectations and providing them with something they would not be able to find anywhere else.
Marketing your cleaning service as a customer-focused business means striving for excellence in every aspect of your strategy from the beginning, including the selection of services, pricing, staff training, and support programs, up until customer feedback and sign-off at the end.
"The best way to market your cleaning service as a customer-focused business is by ensuring that your customers are happy."
To market a customer-focused business, you need to show the customers that you care about them. This can be done by offering them discounts, giving them special treatments, and more.
To succeed as a customer-focused business, it is important to know what the customers want and keeps their needs in mind for every decision made.
How to Get Rid of Unwanted Clients and Keep the Ones You Want
Every business owner has experienced a situation where a client no longer wants to use their services. While this can be a very stressful and frustrating experience, there are ways to improve client retention rates.
This can be a very stressful and frustrating experience, but there are ways to improve client retention.
In today's digital age, it is easy for customers to find a new company that can meet their needs in much less time than it used to. So, when a customer becomes dissatisfied with your company, he or she will find another alternative faster than you think. It's important to make sure that clients stay happy and satisfied in order not only to avoid the stress of losing a client but also because satisfied clients often lead to more work in the future.
The first step is understanding why they left in the first place. Understanding why they left will help you figure out how to keep them from leaving again.
Recommendation
We recommend looking at PnaPna.com which has a PnaPnaCleaning.com variant specifically designed for cleaning service companies. They offer a 14-day free trial; no credit card is required with a 60-day money-back guarantee. They have a lead generation system, a digital marketplace where you can advertise your business for free. A free integrated website where you get a free web order form from your clients and the orders go straight into the software for Employee monitoring, time management, payroll, etc. The system allows collecting payments online or on job sites. It is well integrated on mobile phones as well as a PC. You will save one full employee's annual salary, to do all these tasks automatically.
The company will also specifically design any feature that may be very unique to your company. The owners of this software company have been in the field service business for decades and know the issues of small to medium size field service companies. Good software is an asset that will reward you many times more than the investment. They have a lifetime subscription for a one-time fee of $295.00. Even if you do not buy anything from PnaPnacleaning, you can avail of their free-for-life subscription and free advertising in your marketplace on their portal.